Medicines that must be bought over the counter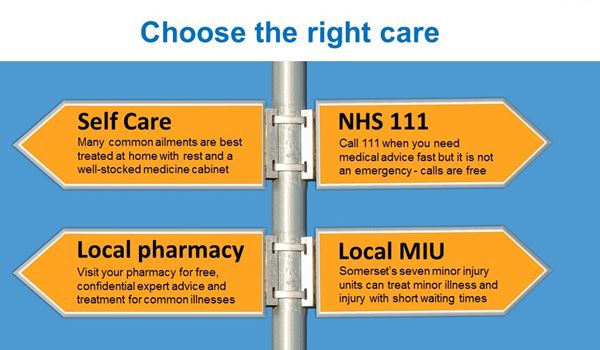 Someset Clinical Comissioning Group have published medicines that should not be issued on prescription as they can be purchaced from pharmacists or supermarkets.
This allows prescription administration costs and drug costs to be reinvested into vital NHS services.
More information can be found on their wesbite here. Somerset CCG website
These medicines and an explantion to why is available in the following leaflet, which is available to download below
3 Ways to order online
We encourage all patients to order their precriptions online. The best way of ordering repeat prescriptions is by registering for online services. There is also an NHS App 'Patient Access' which we will be moving towards in the future. The system wil hold your prescription details and basic medical record for your access.
If you are currently registered on our old website please select the 'Waiting room' option below.
During the Covid-19 pandemic it is not feasible for patients to supply the personal identification to register for online services. For this reason you may complete a request form without log in details.
The links to the 3 methods of ordering your prescription are below.
Time to process your request
It takes 2 working days for the doctors surgery to process your request. The pharmacy will also need time to process the precription once completed. Please check with your nominated pharmacy regarding this length of time.
All requests will be managed within the period of 9am to 1330pm. If requested after this the process will start from the next working day.
Order a Repeat Prescription
Repeat Prescriptions
Cranleigh Gardens MC – post or leave your computerised request slip (if you have one) or request note and the prescription should be ready for collection in two working days' time. If you provide a stamped addressed envelope, your prescription will be posted to you.
You are encouraged to order prescriptions on-line via the links at the top of this page.
Alternatively, our dedicated telephone number for prescriptions is 01278 427092. This line is open from 09:30 until 13:30 and is a direct line to our Prescribing Lead Receptionist, who is specially trained to deal with prescription issues.
Please do not use the main surgery telephone number for prescription requests.
Some of the pharmacies within the town offer a prescription collection service – please remember to tell the receptionist if a chemist is collecting your prescription on your behalf.
Westonzoyland – you are welcome to telephone 691233 or request your prescription during surgery hours on Monday or Thursday. Prescriptions should be ready for collection at 12.00 that day.
Helping with your Medication Queries
If your question relates to the type of medication, how you can take your medication or possible interactions with other medication your pharmacist can help you and should be your first port of call.
If your pharmacist has not received a prescription our receptionist should be able to look into this for you.
If you believe you are having side effects from a medication or that a dose may need adjusting then you are likely to need to speak to the doctor who started the medication. Please talk to reception or use econsult to request a telephone appointment.
If you would like a medication that you have had in the past for a condition that has recurred then speak to our prescription line operator. They can contact the doctor regarding your request or may suggest that you are able to purchase this medicine over the counter or that you make an appointment with the doctor.
Repeat Dispensing
If you are stable on repeat medication and expect to be so for at least 6 months you can request repeat dispensing.
This means the doctor will issue you 6 prescriptions to be sent to the pharamacy who can then dispense them once a month without the need for you to request the item each month. Please state you would like this when ordering your prescription or having a review with the doctor.
Any test to monitor your drugs (blood test and/or blood pressure check) must be up to date to do this.
Prescription Fees
Help with NHS costs
In England, around 90% of prescription items are dispensed free. This includes exemptions from charging for those on low incomes, such as:
those on specific benefits or through the NHS Low Income Scheme
those who are age exempt
those with certain medical conditions
More information is available at NHS Choices
NHS Charges
These charges apply in England only. In Northern Ireland, Scotland and Wales prescriptions are free of charge.
Prescription (per item): £9.35
12-month prepayment certificate (PPC): £108.10
3-month PPC: £30.25
If you will have to pay for four or more prescription items in three months or more than 14 items in 12 months, you may find it cheaper to buy a PPC.
Telephone advice and order line 0845 850 0030
General Public - Buy or Renew a PPC On-line
There is further information about prescription exemptions and fees on the NHS website.
Reducing Waste
The staff at Cranleigh Gardens Medical Centre are working with Somerset Primary Care Trust to try to reduce the waste of medicines. We would like everyone in the community to help play their part. Every pound spent on medicines which are not taken is a pound less which is available to provide NHS treatment for you, your family and friends.
Did you know?
It is estimated at least 10% of prescribed medicines are wasted
Once collected from the Pharmacy, medicines cannot be recycled
Doctors don't mind if you decide, for whatever reason, you don't want to take a medicine; they would far rather know and not issue unwanted medication that ends up wasted
Medicines should be returned to a Pharmacy for safe destruction if no longer needed
This destruction involves incineration and the NHS also has to pay for this so adding to the bill for waste.
What can you do to help?
Tell your doctor if you do not want to take a medicine any longer (or please fill in and return the slip to indicate any medication on your repeat slip which you no longer require)
Don't hoard or order more medication than you need. If you do have a surplus of some medicines, please use them up before ordering more
Ask your Pharmacist for advice
Take any unwanted medicines back to the Pharmacy for disposal
28 Day Prescribing
To help minimize waste we will shortly be moving to 28 Day Prescribing for the majority of patients at our Practice. This means that if you are being prescribed a "repeat medication" your Doctor will now start to prescribe enough of each medicine
to last you 28 days. For example, if you are taking 2 tablets a day you will receive
56 tablets, 3 tablets a day 84 tablets, 4 tablets a day 112 tablets, etc. There are some drugs which are packaged in 3 monthly amounts and will continue to be dispensed in these packs, eg Contraceptive Pills and HRT.

Your prescription should last at least 28 days. If you are collecting routine medication more often than this or if you are running out of some medication or have too much of other items please tell the Practice by ringing our Prescription Line on
01278 427092.

Hopefully by working together, we can start to reduce wasted medication locally and help ensure that more of the NHS's money is spent to improve health care.